My hubby has been wanting me for years to find a recipe for peanut butter bars just like the ones that he used to have in school growing up. I never had them in school.....I know. I was a deprived child. lol.
But I am thankful that I finally found some that are almost just like the ones he used to have. The frosting isn't quite the same, but I think I can fix that. The peanut butter bar part is exactly like he remembers them. Woohoo!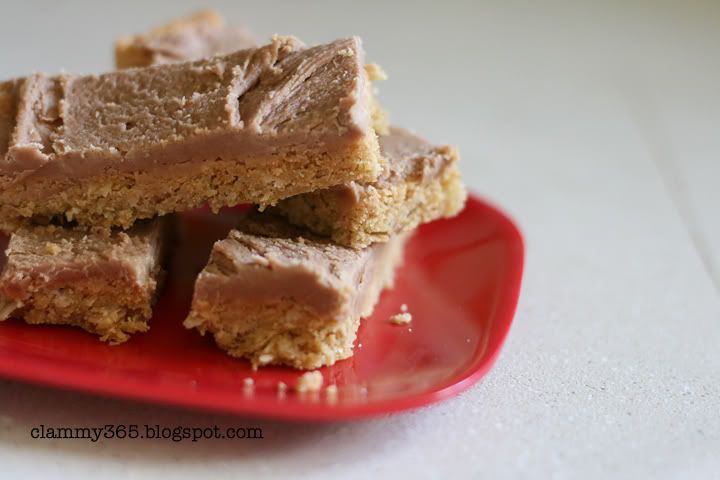 They are super yummy so I thought I would share where I got the recipe.
School Lunch Peanut Butter Bars
1 1/2 C Flour
1¼ tsp. Salt
½ tsp. Baking Soda
¾ C Butter
¾ C Sugar
¾ C Brown Sugar
1 ½ tsp. Vanilla
1 1/2 C Creamy Peanut Butter (split)
2 Eggs
1 ½ C Quick Oats
Frosting:
½ C Butter (1 stick)
3 ½ C Powdered Sugar
2 T Cocoa
¼ C Milk (I use whatever I have in the fridge)
1 tsp. Vanilla
Preheat oven to 350 degrees. In a small mixing bowl, mix together flour, baking soda and salt. In a large mixing bowl, cream together butter, sugars, 3/4 C peanut butter, eggs and vanilla until light and fluffy. Gradually add dry ingredients, just until incorporated.Then, stir in the oats. Spread onto a greased 11 x 15 Jelly Roll Pan (cookie sheet). Bake for 12-15 minutes, or until golden brown. Cool for 10 minutes.
The frosting is a two step process. First, whip the remaning ¾ C Creamy Peanut Butter until it becomes lighter colored and fluffy. Carefully spread the whipped peanut butter over the pan cookie.
Then, add butter to a small sauce pan and melt the butter. Add the milk and cocoa. Cook over medium heat, stirring constantly. Heat just until boiling. Remove from heat and add vanilla. Then, gradually add the powdered sugar. Stir until thickened. Pour over the peanut butter and gently spread over the cookie. Cool completely, and slice into bar cookies.