Another day of waking up early, I don't mind really. It lets me enjoy the peaceful sounds of the ocean and the sunrise. I wasn't quick enough to get down to the beach for the sunrise, so I just snapped a few shots from our room.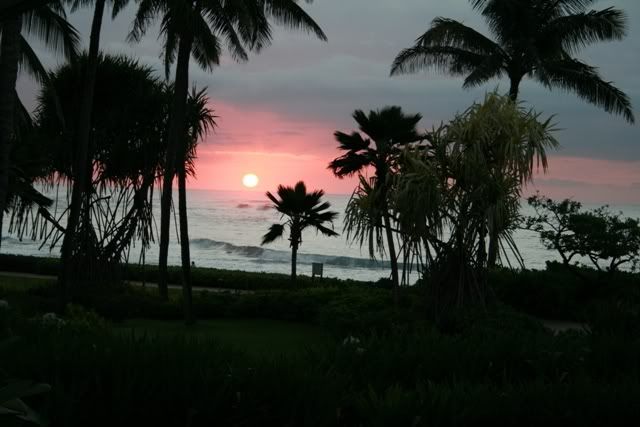 We decided to go and hang out at a beach today. We opted to go to one that was pretty close to us called Po'ipu beach park. We got there a little before 10 so there weren't many people there. The water here is a little cooler than I thought it would be so I lounged in the sun reading a book until the day warmed up a bit more. There was a little sandbar/rocky area out a little ways from the shore that we went and explored, too. We saw a few of pieces of coral and tons of sea cumbers and other sea life in the little tide pools. I thought that it is kind of strange that there are not very many shells here on this island.....you can see a little island off the north west coast that is supposed to have tons of shells. The island is the only one that they will not let tourist go to. There are some Hawaiians that live there and, if I remember right, they live the way that their ancestors lived.
When I did go in the chilly water to go snorkling, I saw lots of colorful fish. There wasn't much coral, just a few rocks here and there. But it was fun swimming in the schools of fish. After being tired of shivering from the cold water, I climbed onto my dry towel and soaked up more sun. I sure wasn't ready when to go when everyone else was. So I reluctantly packed up my stuff and headed to the hotel to change and have lunch. (but it is a good thing that we left when we did....it turned out that had a pretty good sunburn that would have been much worse if I stayed).
After lunch Weston and I wanted to go exploring some more. The Island has a lot of these trees that almost look flat. There are quite a few of them here and they almost remind me of the trees that you may see on the savanna plains in Africa. This isn't the best picture...it was taken as we were driving past it.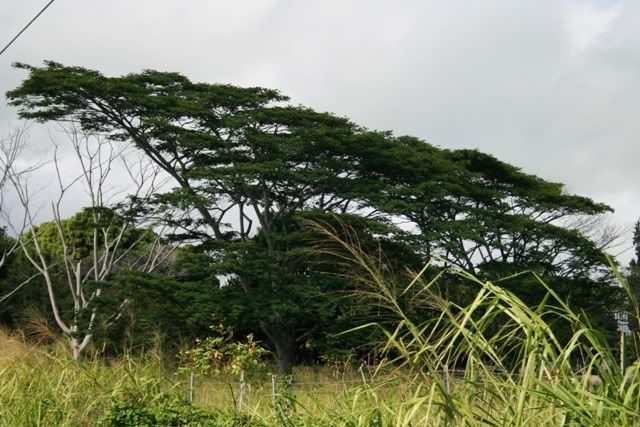 The trees there also seem to be very tall and a lot of them are covered with these vines that have big round leaves. Also lots of the trees have roots that grow down like the banyon tree's that I grew up with in FL.
We ended up wandering to some falls that are 83 feet high called Wailua falls.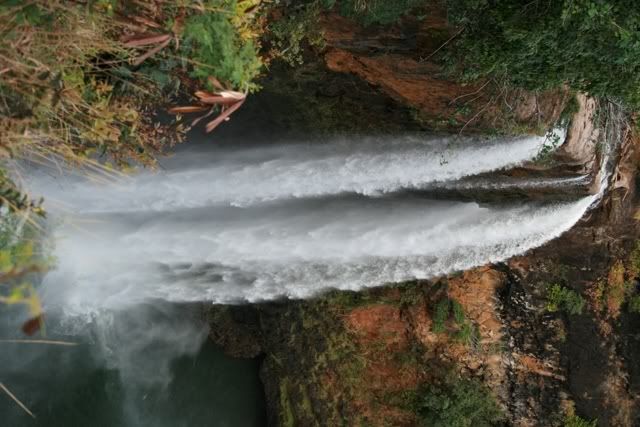 There were lots of warning signs about danger and death there. It made me wonder if all the leis that were hanging on the fence were in honor of a loved one that had been lost there. The old dead leis are still hanging on the fence with the fresh ones.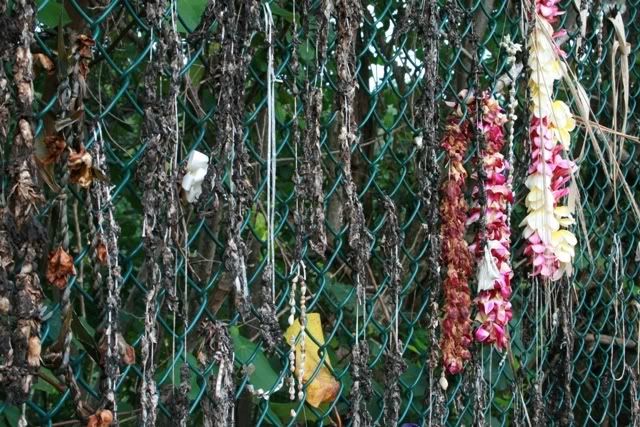 To end the day, Associated foods had a nice dinner for everyone to enjoy. They had a huge fish (that I did not partake of) and pork and different salads and fruit and a few different kind of rolls and lots of pies for desseret.
All I seem to look at in this picture is that piece of hair that is being blown almost straight up.