We decided that it was probably a good idea to go and rent a car today.... I know that I wanted to get out and see more of the island. So while Weston and Dee went off to go get the car I read my book. And then I painted my toe nails. And then I watched some tv. And then I decided to wander the hotel grounds.....I never knew that renting a car would take hours! =p While I was wandering I saw so many interesting things. There are these red flowering plants everywhere. I believe that it is some kind of ginger.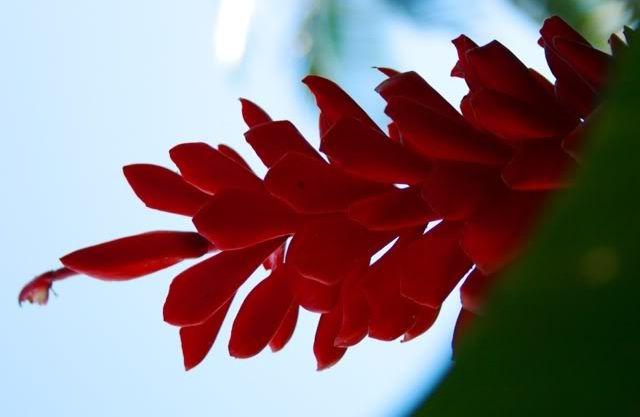 And then I ran across some huge Bird of Paradise. They were such a dark color. And since I know that there are a few of you guys that enjoy these plants I wanted to post a picture of them for you.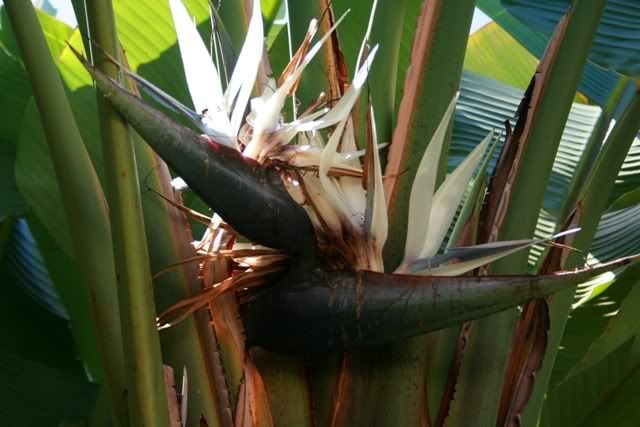 And right outside of my room were these giant things that reminded me of ferns. The leaves look just like a fern and the leaves 'uncurl' just like one. And the new stems uncurled, too. It was really cool looking. This is taken from the bottom floor. These guys reached up to the 2nd floor where my room was located. They also had plants that Ella would have loved. They had pink pink pink leaves. And some that were speckled with red and green. The garden that is in the middle of the lobby had 4 birds mixed here and there in it. I don't think that they are native to the island but it added to the effect.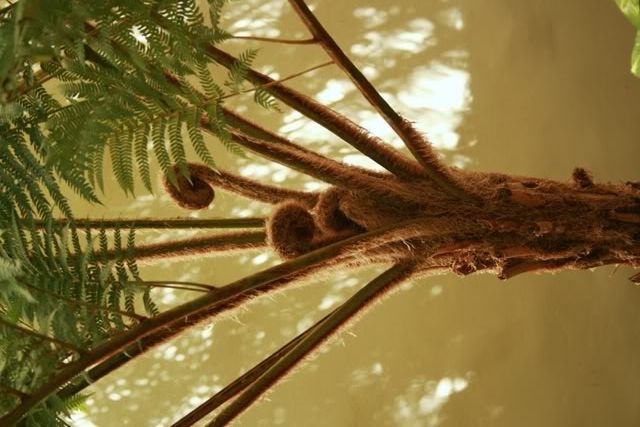 The boys finally arrived back around lunch time. So after enjoying a simple lunch we wanted to go exploring. I had read about some cool canyon before we came and I wanted to scope that out today. The canyon is called Waimea. Waimea Canyon State Park. This picture is taken from one of the lookouts. The colors were so rich and it was very beautiful.
At another lookout I discoverd something that I just absolutely love about this island. And that is that there are lots of chickens and roosters here. Everywhere. It made it feel like I was in a different country. And I loved hearing roosters cockadoodling throughout the day. I know some may think that I am loopy for this, but hey I really like that about Kauai.....and Weston does too.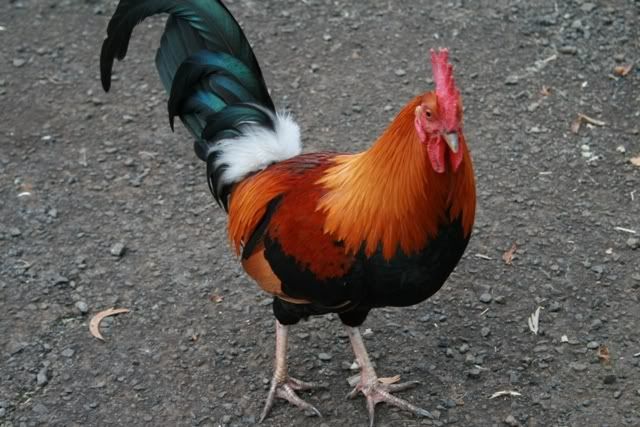 As we continuted up farther on this canyon road we came to another state park. Koke'e State Park. As we drove through the park, we went higher and higher up and the next thing I know is that we are in the middle of the clouds. We notice a lookout and pull over. We notice this sign that says Nene crossing. The Nene is also known as the Hawaiian Goose. I come to find out later that these birds are Hawaii's state bird and that they are on the endangered species list. I saw a few of these here and there, but it seemed that I was always driving past them when I spoted them.
It was kinda wierd walking out in this cloud at the lookout. It wasn't raining on us, but you could feel the water droplets on your skin. Everything had water drops on it. I have so many pictures of plants and such with drops of H2O on them. One of my favorite things is when a spiders web has the dropplets on it.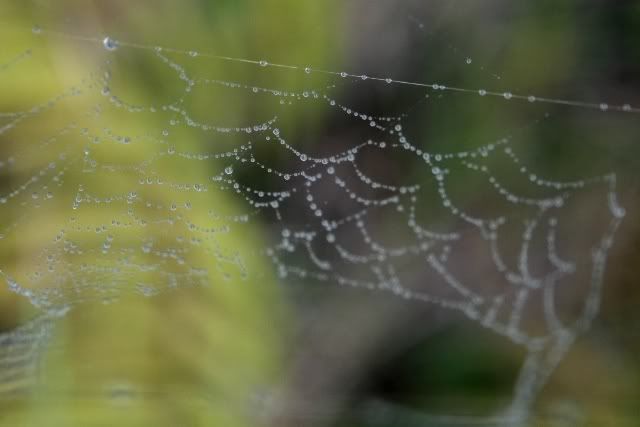 I don't know what they are gazing at....the visibillity was pretty much zip, zero, zilch. But, we thought that we could hear a waterfall somewhere close by. When we were walking back to the car we saw a little herd of wild goats. They were running around playing and they even put on a fancy little display of headbutting for us.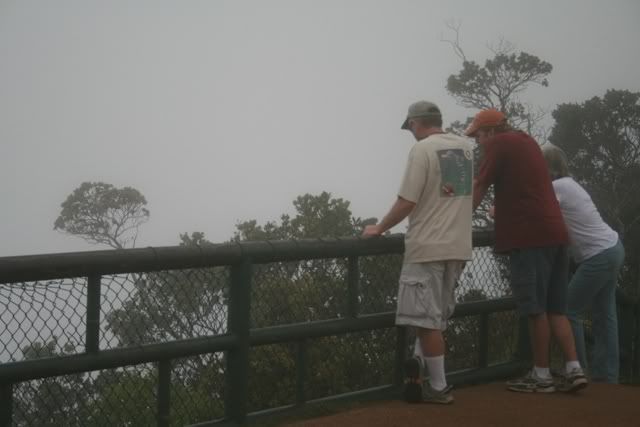 The end of the road was just a little bit farther up. So we decided that we may as well go to the end.... even if we can't see anything. I am so glad that we did. When we got to the end of the road is was still pretty cloudy, but we could see a little better now.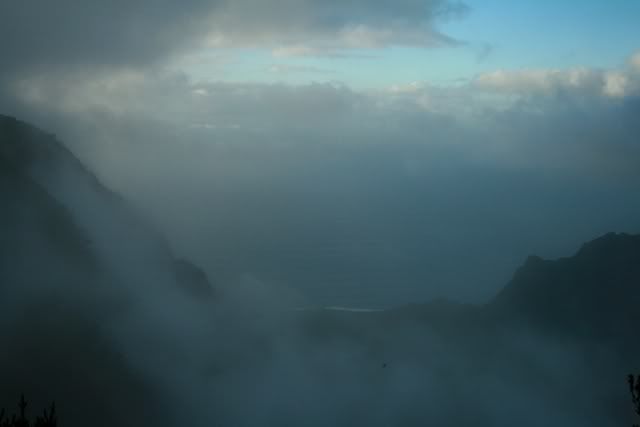 These clouds were clearing out pretty fast. Within about 5-10 minutes the almost had a clear view. When we first got there it was hard to tell if that was the ocean or not.
The mountain sides here are pretty much cliffs. It was sad to see little balloons and stuffed animals in rememberance for a little child who must have fallen over the edge. I get nervous with heights....especially when I feel crowded (I feel like I might get bumped by someone and fall over.....silly, I know!). I found myself feeling much better about being near the edge when I was sitting.
We hiked down this path for a while. Along the way I noticed some of the most interesting moss and lichen and such. In this next picture I didn't touch the color or the contrast or anything....didn't do a thing to it, this is exactly what it looked like.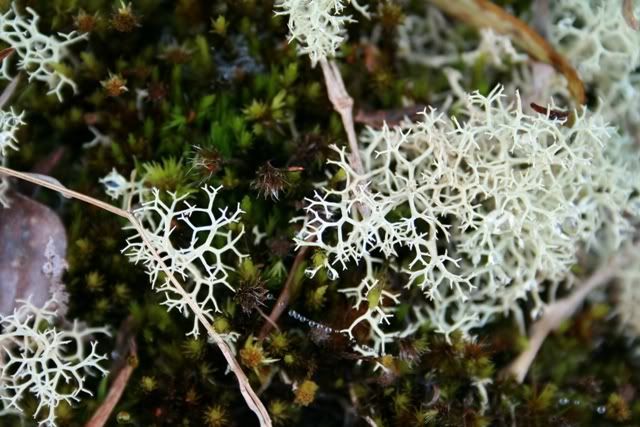 On our way back down the very curvy road we caught a glimps of some of the wild piggies they have running around the island..... little piggies that get cooked up for the luau's. Poor little guys! ;)