Alright, here is my review of the Electric Run.
My oldest and I were super excited for this race. From all the ad's we saw about it, we were excited to run with lots of cool lights everywhere and lots of music to follow us through to the end.
We were also excited to get to wear our gloves with glowing finger tips, our light up shirts (the ones that are sound activated so every time there is a noise it lights up (we got lots of compliments about them) and we couldn't wait to try out the glow in dark face paints.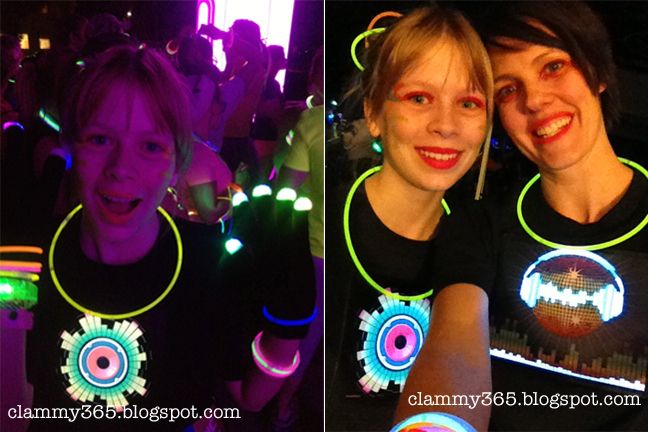 Let me just start by saying that there is a LOT of energy and excitement from EVERYONE at the starting line.
Super Super loud music that you can't help but dance to a little bit. A guy at the beginning of the starting point that is talking to everyone on a microphone that is totally helping everyone to get pumped and ready for the run. And it is fun to see how everyone dressed for the race.
So, here comes some info about the start of the race.....the race was started in several intervals. Meaning that not everyone is allowed to run at the same time. They only let a few dozen go at a time. And just as a heads up they don't keep track of your time/don't have a timer-clock thing anywhere.....at least not that I saw. So, if you wanna know how fast you ran it you will need to keep track of your own time.
Having everyone start at different intervals worked out good for us because we were really late to the race (30 minutes late =/...due mainly to the fact that there were so many people there that it was so hard to find a place to park and we had to walk 10 minutes till we got to the starting line ), but even though we were so late we still had to stand in masses of people in the starting area for at least another 30-45 minutes.
But it wasn't so bad because of all the energy that was flowing there.
I was so ready to run and get this race on....my legs were just itching to run.
As we got closer to the starting line, we could see that there was a guy in a morph suit (that had a glowing line in it so he looked like a glowing stick figure) who was up on a platform dancing and throwing handfuls of glow sticks into the crowd. I thought it was a fun touch.
K.....so here we are at the starting line. We are next to run. My excitement is nearing the top and I can't wait to see what lies beyond.
Lets just say that it was a disappointment after all the build up of excitement and energy at the starting line.
As soon as we crossed the line, the music got really faint and there weren't any lights for a little while.
In fact the first thing we came on were these umbrellas that were hanging in trees with different colored light shining on them.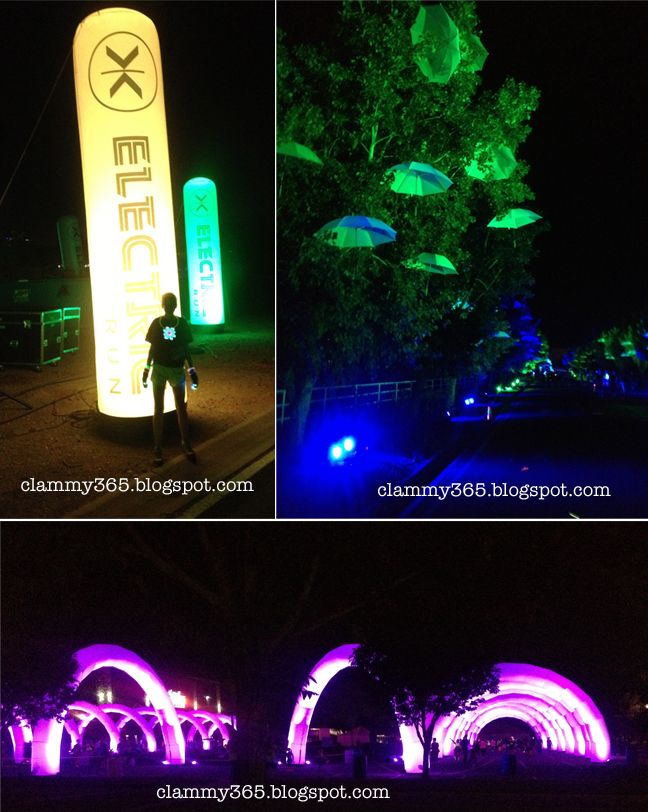 The coolest thing that we came upon in the race is this arched changing colored thing (pictured above) that we got to run through. There was also a fun area that had bubbles floating around in a pavilion that you ran through.
And here and there you would come across a black-lite area.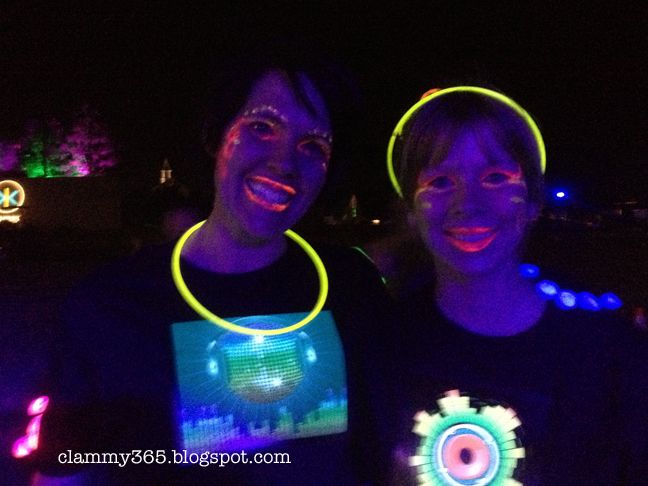 And then after crossing the finish line the excitement and energy started to build again. There was loud music again. People up on a stage. Laser lights going every which way. People of all ages dancing and crowding toward the stage.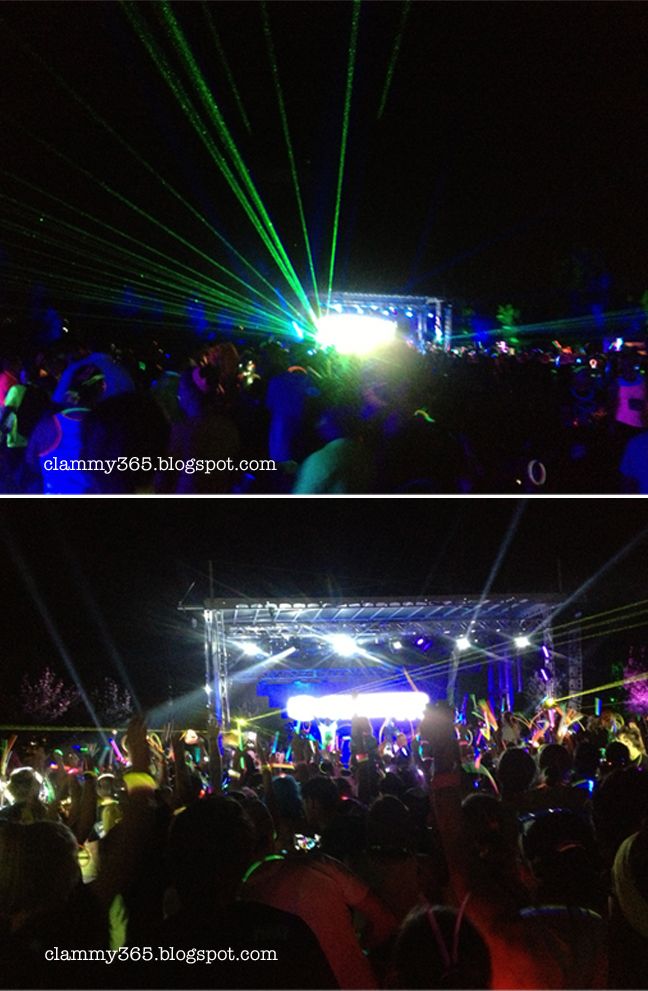 Maybe I was expecting something different but it didn't really seem like a race to me. Most people were just walking or standing around taking pictures. And there were a lot less lights/light up things than I was expecting.

Oh, and I am assuming that it was due to the location that the event was held at, but there was a lot of dark areas and the terrain would change without us being able to see it and there was a time or two that I almost fell.
It was a lot of fun to do this with my daughter.
Overall.... I think it is worth doing once, but I don't think that I'll run it again.