FYI.... these post of my trip may be a bit long or on the boring side, but I want a record of everything.
I found myself being very thankful that my kids were asleep when I left this morning at 6:15. It was hard to say goodbye the night before. Ashlyn was sobbing when I tucked her in and I was trying my hardest to keep my emotions under control. So I knew that it would be even harder to say it when I was on my way out the door. Everyone kept telling me that I would be relaxed and not be worrying about the kids once I was on the airplane....another person told me give it 6 hours and then I wouldn't be worrying about them. When we flew into San Francisco it had been 2 hours and I was constantly near tears through the first part of the flight. The view from the plane of San Fran this morning was beautiful and I found a little fun taking pictures through the dirty airplane window.
We arrived in San Fran and missed our plane to LA (due to leaving SLC late) so we managed to get on another plane and made it to LA just in time to board the plane to Kauai. *whew* But still all this time the kids are on the back of my mind and so far I am not enjoying the ride.
Shortly after the plane leaves the flight attendants put on flowered aprons and put flowers in their hair. I even hear a couple Hawaiian words 'Aloha' (hello, goodbye, love) and 'Mahalo' (thank you). After a 5+ hour flight we arrive to the beautiful Island of Kauai. The sun is starting to set but there is enough light to see the lush, green island (I feel like I haven't seen green for so long!). The airport is small and there are open windows everywhere and we are greeted by a nice warm breeze after we get off our plane. The baggage claim area is very open and the walls all have 'holes' to let in light and the breeze. I look out the door way and the first thing I think is this looks just like Florida. And I instantly got homesick for my mom and dad. It felt wrong to be there......felt like I should see my mom coming to pick me up at any minute. I fought back tears for a moment and then forced myself to smile and be happy. Oh and I was kinda let down....I guess I have seen too many movies, but I was expecting to be greeted with flower leis when I got off the plane. =( They weren't passing out free ones there, but when we got to our fancy smancy hotel they greeted us with leis made from orchids.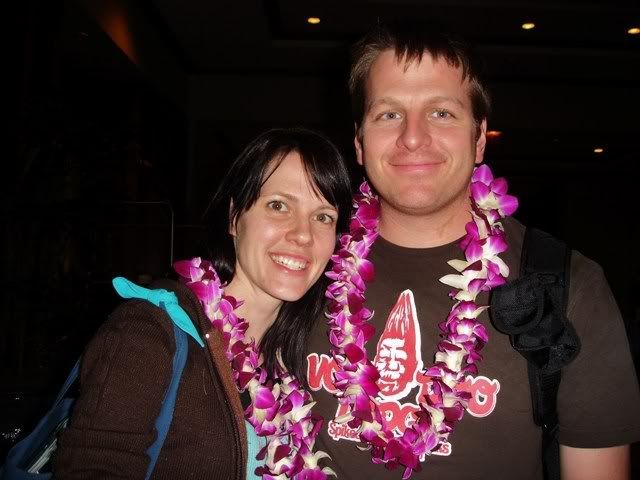 We walk through the hotel, which has all these open hallways and open windows everywhere and little courtyards full of beautiful tropical gardens everytime you turn a corner. We get to our room and it is darkout by now. I walk to the sliding glass door which leads to the balcony (yes I feel SUPER spoiled! And the best part is that the hotel and airfare are paid by the company Associated foods!), but anyway, I have been still feeling restless and anxious and having a hard time being away from my kids and as soon as I step out on the balcony and I hear the ocean waves I almost immediately relax. It is amazing that just the sound of the ocean can do that to a person and I am so thakful that it can and that I can start to relax and try to enjoy this trip.