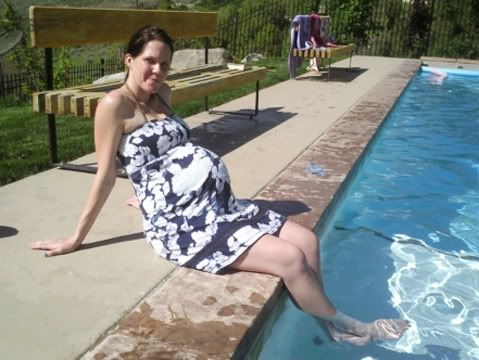 Growing up, I would have thought that the person who went swimming when it was only 70 outside was crazy......guess that's what happens when you grow up in the Sunshine State. But it finally hit that temp today and my in-laws pool was up and running (And it was a nice 86 degrees in the water) so we headed over there this after noon.
I don't have many photos of me prego...well not full body photos. So I had my hubby snap one with my not-so-good-cell phone. It almost looks like I am hiding a beach ball under my clothes! lol
And in a couple of days this will be a record for me.....the longest I have ever been pregnant. I have very mixed feelings about that. Happy for the baby, but going crazy because my mind keeps telling me she should be out by now. And it makes me worried that I am going to try and deliver a 10 lb baby if she stays in there much longer! =O
But I am filled with gratitude that she has stayed in as long as she has. She has accomplished all of the major growing and maturing that her vital organs need to do but she is still in there doing some fine tuning.