First off I must apologize....I have not been in the mood to take pictures of any kind. In fact if it were not for this blog I wouldn't take any. So sorry for lame pictures of the next few posts. Have had a hard few days...or I guess you could say week or 2.... I don't even feel like posting the few pics that I have taken. Anyway....
After spending the day at the pool (all part of our goal to make the most of these last few days) we showered and hurried over to Weston's work.....they were having a luau!
The music really made me miss Kauai. =( Hope to get back there some day.
But, man! It was SO SO SO hot! Made me wonder why I had even showered before I went! I was just about as wet as I was when I was swimming earlier that day! blah!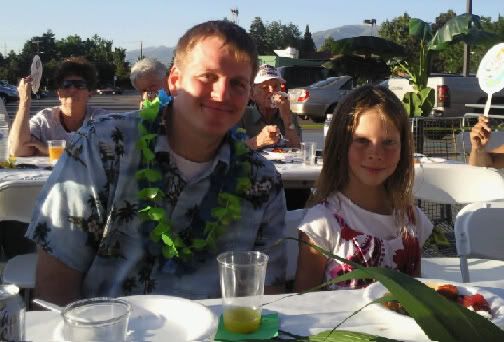 Besides the yummy food, they had entertainment too. And when they started dancing Acadia didn't hesitate to be right up there next to the lady performing dancing her own little dance near her. It was way cute! Too bad I don't have a video camera!
I am thankful for fun ways to get more people to the store.